Geohashing!
So I went geohashing on Sunday. For those who don't know what that is (i.e. everyone), here's the original comic from
xkcd
which thrust this idea into the world: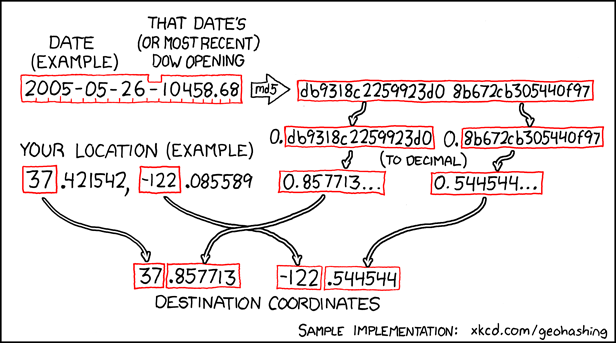 My adventure is
briefly chronicled
on the
Geohashing wiki
, so I won't repeat it here. Suffice it to say it was a pretty cool thing to do since I'll now go down in history as the first person in Sydney to go geohashing.
In other news! I bought a lab coat and some safety goggles on Monday. Well, not so much "bought" as "cashed in a $25 voucher I wasn't going to use for anything else". At any rate, now I can wear it around and be at the heighth of fashion and everyone will be all, "hey look he must be some kind of science dude, look he's eating some chips, i bet he's secretly doing science to them".
Labels: events